Ways You Can Improve Your Healthcare Business in 2021
The healthcare sector is changing fast, and it can be difficult to keep up with the trends and competition. However, there are certain proven techniques you can take advantage of to improve your medical business to become more competitive and successful in 2021.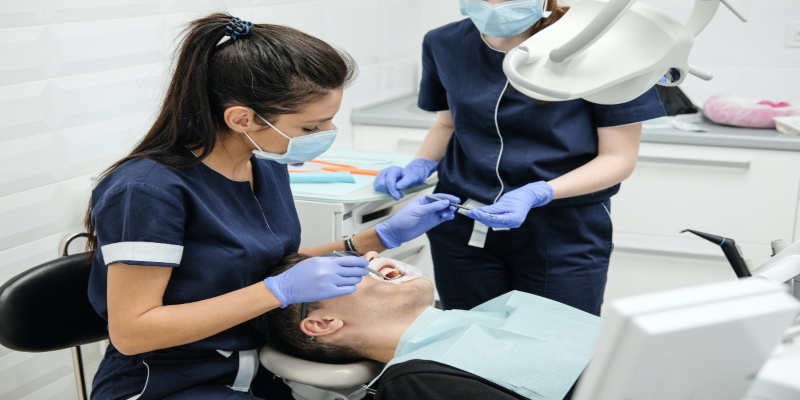 If you're running a healthcare business, you may have found it difficult to maintain a steady growth. The healthcare sector is changing fast, and it can be difficult to keep up with the trends and competition. However, there are certain proven techniques you can take advantage of to improve your medical business to become more competitive and successful in 2021. More precisely, here's what you need to do:
Use social media a bit more
According to the National Institutes of Health, 80% of internet users go online to search for health information. 74% of them use social media to get certain information related to health. There are many ways you could use social media to improve your business in 2021.
Firstly, you could use it to raise awareness about new health trends or concerns. This can be as simple as reminding your audience about the everyday health practices or measures to prevent health problems.
Secondly, you could answer common questions about general health issues through videos or infographics. Slowly, your audience will see you as a trusted expert in the field and consult you whenever they require medical assistance. Just remember to encourage your existing patients to follow your business on the various social media platforms, such as Twitter, Facebook, Instagram and YouTube. They will naturally share or retweet your helpful posts or updates and assist you in marketing your business for free.
Use customer reviews to grow your reputation
I'm pretty sure you've heard countless times that the internet is king, particularly for the millennials and Generation Z. Nearly everyone is going online to get all manner of information. In many cases, people check reviews online before trying out products and services to be sure they're making the right decision. If you have many good patient reviews online, it should not be very difficult for you to get more patients.
If you don't have many reviews, you need to get your patients to write about your service delivery. Remember that you have to ensure they're getting the best service if you want to get the best reviews. If you've recently received a negative review, get to the root of the problem and improve your service as necessary. If you're not sure about how to begin, you can start by contacting your long-term patients. Ask them to offer their opinion about your business. If they provide you with positive feedback, request them to share it online as a review. As you do that, request your current patients to do the same.
Adopt the latest software technology
Technology can improve your business by making work easier for your employees and patients. For instance, the younger patients would appreciate you more if you used efficient online appointments or patient portals instead of the time-wasting phone calls. Similarly, your employees would appreciate an easier method of writing prescriptions and notes, and managing patients through a cloud-based software, such as the popular EHR software. You therefore need to coordinate your administrative services through software.
Technology, such as the patient portals, can assist you communicate your patients' lab results to them, eliminating the need for a physical visit. Such improvements can improve your reputation among your prospects, and make your employees more motivated and productive.
Increase your community involvement activities
Many healthcare businesses have thrived by participating in community service projects, fundraising activities and other similar events within their communities. Your prospects are in the community; when they see you there engaging with them, they'd be more likely to choose you over your isolated competitors. You can send representatives on a regular basis to participate in charitable causes, such as diabetes walks, silent auctions or environmental conservation activities. Accept invitations to social centers and institutions, such as schools, churches and conferences, and use the opportunity to expand your network. In other words, grab any chance to support your community, and do the best you can; you'll certainly get noticed by people and increase your chances of seeing them in your healthcare center.
Stay up-to-date in your industry
It is imperative to know about the newest update, information, technology, etc. in your prospective industry. Keeping up with the latest options will not only make you well-informed, but allows you to jump on opportunities early that can be beneficial for your company. Make sure you are always trying to improve, even if it's just the little things. For example, implementing new ideas in order to stay organized in your office will benefit everyone and is a great way to improve your business.
Invest in a professional website
Having an excellent website is more likely to draw more customers or patients to your company. You can do this by hiring a professional if you have the budget for it. If not, there are also ways you can create your own website, although it may look more simple. Either way, it is better to have some sort of website rather than none at all. Potential clients will want to check out your company and learn more about what you offer from your website. Not having a website makes setting up an initial appointment more unappealing from the patient's perspective sometimes. This is why it is important to have a good amount of information on your website pertaining to who you are, what you are about, products or services that you offer, and your goal as a company. This can make customers or clients more comfortable too. If you are just starting out, make your own for now and then invest in a professional website later when you have the money to afford it. You will be glad you did.
Conclusion
The healthcare business is usually different from the other businesses. You might have to make different choices and will have different options or ways to improve than other industries. To improve it and see meaningful results, you need to embrace technology, build your reputation through customer reviews, get closer to your local community and increase your social media use.