Dentons reduces stress and anxiety in 92% of employees following MYNDUP implementation
New mental health initiative from MYNDUP delivers 121% ROI for the world's largest law firm, while reducing employee stress and anxiety, and boosting confidence and productivity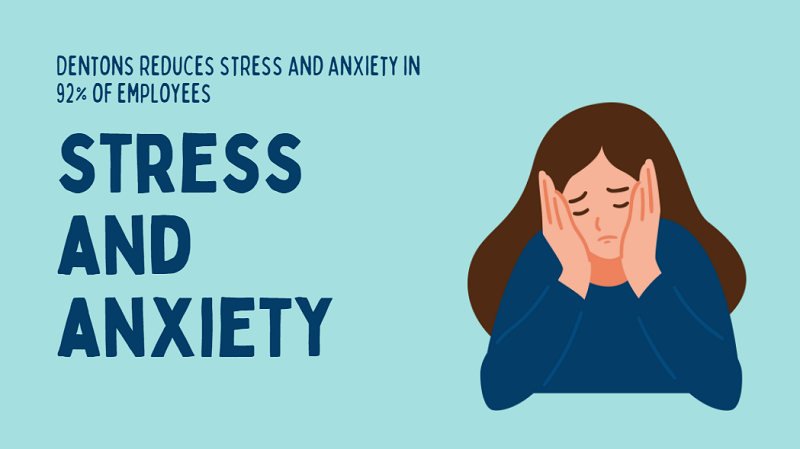 Dentons, the world's largest law firm, has witnessed a 121% ROI following its investment in MYNDUP as its third party mental health partner to provide employees with access to live one-to-one video sessions with mental health professionals.
The MYNDUP service, which has been rolled out for 1,500 Dentons employees across the UK, Ireland and Middle East covers all facets of the mental health spectrum, from therapy and counselling through to life coaching and meditation, and is designed to replace the "one-size-fits-all" approach that remains common at many organisations.
Dentons had initially rolled out a pilot with MYNDUP in March of this year, but after seeing the success of the programme within just two weeks, decided to extend this more widely across the business. Following the success of the extension, after just one month the decision was taken to implement the MYNDUP solution for 12 months and beyond across the entire UK, Ireland and Middle East regions. Martin Mankabady, UK Corporate Partner at Dentons says, "Looking after the wellbeing of our colleagues is more important than ever as we transition into a more hybrid working environment."
"The feedback has been fantastic. Everyone who has taken part feels more confident, motivated, and productive following their MYNDUP session," adds Jo Wilson, Diversity & Inclusion Manager, Dentons.
Since the implementation, 92% of users that have taken advantage of the service have reported a reduction in stress and anxiety, and 100% of users have reported a boost in their confidence and productivity, these figures have resulted in a 121% return on investment for Dentons in just two months. In the first month alone, the MYNDUP programme delivered a 4X industry average on engagement and a 6X boost in male mental health usage.
Joel Gujral, founder and CEO of MYNDUP, adds: "Employee wellbeing has become increasingly important over the past few years as organisations look to better engage and motivate their staff, with the pandemic exacerbating the need for workplace initiatives that work to help employee mental health. Dentons is a great example of an organisation that understands the need for broader solutions that offer a variety of services to employees depending on their individual needs. We're extremely proud to have partnered with Dentons and also by the great success in the initial rollout of our services across the UK, Ireland and Middle East.
"As a business, opting for mental health services that actively remove the barriers to mental health support while being highly accessible are key. Generally, large corporates often rely on EAP/Insurance solutions which are usually perceived to not be anonymous and more clinical, hence lower engagement rates. In addition, they only provide therapy or counselling with someone they have no choice over, which only tackles one small part of the mental health spectrum."
Recent insights from MYNDUP reveal that specifically across its customer base of organisations supplying the services to their employees, the most common form of sessions booked to date this year are life and executive coaching, with 37% of sessions booked falling into this category. This is compared to 29% of sessions booked under the category of counselling, highlighting the desire and therefore need for a range of services.
Joel concludes, "It has been fantastic to see the wide scale cultural change in the world's largest firm in the law industry, and I would like to thank Martin Mankabady and Jo Wilson from Dentons for supporting young founders, entrepreneurs and early stage start-ups like MYNDUP!"