Hybrid Events – The New Future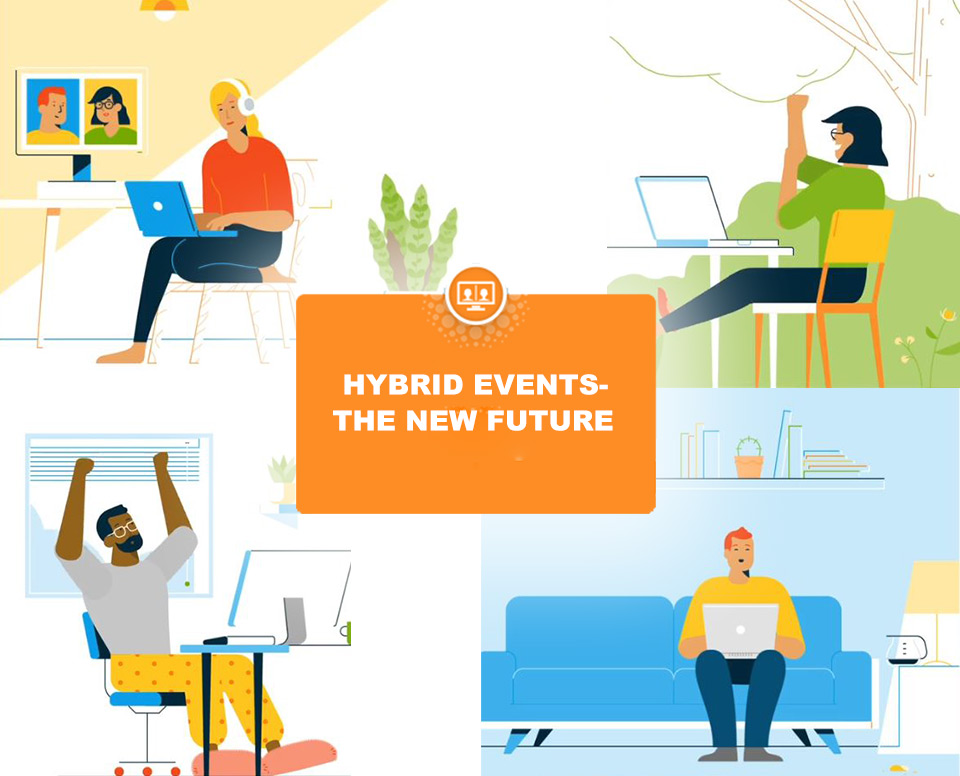 There is no denying the fact that the physical events are not coming back anytime soon. Maintaining adequate social distancing and following all the norms is a must in 2021. The covid-19 pandemic changed the entire narrative around every corner of the world. We can completely agree that mankind had to face extraordinary challenges. This situation brought in a lot of hindrances for the corporate world. One of these was hosting all the important events. Participation in physical events drastically changed with the implementation of a worldwide lockdown. But fortunately, this monotonous yet challenging situation brought in some positive changes. It led to the inclination towards hybrid events.
Hybrid events are the perfect amalgamation of physical and in-person elements. In this type of event, few participants are present at the physical location. The rest of the attendees are present with the help of a virtual medium. Hybrid events are a great alternative to host product launches, award shows, conferences and a lot more in an immersive environment. The hybrid event platform captivates all the virtual attendees easily. It also offers unique features of utmost customisation. This highlight allows organisations to modify every aspect of a hybrid event platform and match their expectations.
This creates a real life-like platform which engages the participants even more. Hybrid events were able to gain extreme popularity because of numerous features. The most prominent ones are that they are budget oriented as well as more impactful. Furthermore, organisations can target a larger audience with the help of these hybrid events.
With all that being said, one cannot skip the fact that hybrid events are the new future. 2021 is going to see a great shift from the normal in-person events to the hybrid events. Numerous experts have started to take their bid on this aspect. They have come up with a variety of assumptions that clearly analyse the future of hybrid events. If you are probably wondering what hybrid events will bring to the table in the upcoming years? Look no more because you have come to the right place! In this article, we are going to talk about what we can expect from the hybrid events. So, continue reading further.
1. A Social Wall
We can expect the hybrid event platforms to amalgamate a social wall for your hybrid event. The social world works as an integrated social media wall on your platform. It attracts individuals and helps them gain a wider perspective regarding your organisation. We can expect features like a Twitter wall that allows individuals to communicate during the live event.
2. Interactive Live Chats
Hybrid event platforms have now started to offer live chat features that boost up participation. This allows individuals to communicate with each other effectively. They can discuss and share their ideologies on crucial topics. It also empowers them to communicate with the host, speakers, or other attendees as per their convenience.
3. Catchy Keynotes
Incorporating catchy as well as small keynotes will be beneficial for an organisation. It is recommended to have a word with your community and come up with related keywords. This will help you to directly target the interested candidates.
4. Informative Conferences
Hybrid event platforms must provide an informative conference to all its participants. This conferencing area should be facilitated with the necessary features like live chats, live audio calls as well as video calls. It empowers all the virtual participants to effectively partake in virtual interaction.
5. Integrated Applications
In the coming future, we can expect hybrid event platforms to incorporate integrated applications. This implies that individuals will be facilitated with the option of integrated apps like WhatsApp, Zoom, LinkedIn and so forth. It will empower all the virtual attendees to carry on crucial communication with a respective candidate.
6. Unique Access Management
Access management is a special feature that allows the organiser to control the pathway. It permits them to allow virtual attendees to access a specific location. This is a great feature if an organisation is planning to incorporate VIP elements or paid events.
7. Networking Features
A hybrid event that enables all the participants to strengthen their networking can be expected. Features like networking roundtables, business card exchange, and so forth must be present in a hybrid event. This allows individuals to interact with other business entities and gain valuable insights.
8. AI Matchmaking
We can expect the special feature of AI matchmaking. It allows all the exhibitors to access essential information about virtual participants. It creates a list depicting the interested candidates which empower the exhibitors. They can schedule a meeting with them as and when required. A hybrid event platform with this facility will be extremely convenient in the future.
9. Engaging Environment
We can expect hybrid events to be extremely engaging. The use of special highlights like live surveys and gamification and so forth can be utilised. This will boost up your attendee attendance drastically.
10. Smooth Feedbacks
Lastly, it is important to focus on feedback. A hybrid event platform must facilitate you with great feedback alternatives. Features like automatic feedback forms are a must as they boost up the entire process. This is extremely beneficial for any organisation as it helps them gain important insights.
Conclusion
Hybrid events have changed the entire perspective of the events industry. These tech-savvy innovations are a perfect option for individuals to get creative virtually. They allow organisations to create a fusion of the physical as well as virtual elements. Hybrid events usually take place on a hybrid event platform. This platform permits organisations to alter and modify the platform with the help of specific elements. With the introduction of the coronavirus pandemic, the hybrid events proved to be a great help to the business enterprises.
Organisations around the globe started to incorporate these events and were able to attract more audience day by day. Thus, these events became a huge success. In this article, we have covered up important elements that can be expected shortly. Hybrid events are expected to adapt to the various techniques and market conditions. Therefore, we hope this article will provide you with the valuable information regarding the same.